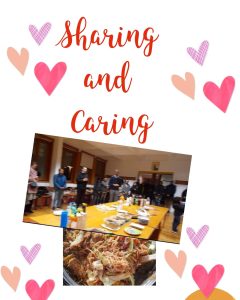 Every last Sunday of the month we do have our 'Sharing and Caring' whereby each member voluntary bring something like cookies, drinks snacks etc and at the end of the 5pm Mass we share together as a Community. Our next caring and sharing will be on 28th May 2023. The best of all is that it is the Pentecost Sunday which is the church birthday.
𝗢𝘂𝗿 "𝑪𝒂𝒓𝒊𝒏𝒈 𝒂𝒏𝒅 𝑺𝒉𝒂𝒓𝒊𝒏𝒈 " 𝗮𝘁 𝗧𝗵𝗲 𝗖𝗵𝘂𝗿𝗰𝗵 𝗼𝗳 𝗜𝗺𝗺𝗮𝗰𝘂𝗹𝗮𝘁𝗲 𝗛𝗲𝗮𝗿𝘁 𝗼𝗳 𝗠𝗮𝗿𝘆 𝗶𝗻 𝗝𝗼𝗿𝗱𝗮𝗻𝗼𝘃𝗮𝗰.
𝗧𝗵𝗮𝗻𝗸 𝘆𝗼𝘂 𝗲𝘃𝗲𝗿𝘆𝗼𝗻𝗲 𝗳𝗼𝗿 𝗰𝗼𝗺𝗶𝗻𝗴 𝗮𝗻𝗱 𝗽𝗮𝗿𝘁𝗶𝗰𝗶𝗽𝗮𝘁𝗶𝗻𝗴 𝘁𝗼 𝗼𝘂𝗿 𝗺𝗼𝗻𝘁𝗵𝗹𝘆 𝗖𝗼𝗺𝗺𝘂𝗻𝗶𝘁𝘆 𝘀𝗼𝗰𝗶𝗮𝗹𝗶𝘇𝗮𝘁𝗶𝗼𝗻 .
𝗠𝗮𝘆 𝗼𝘂𝗿 𝗟𝗼𝗿𝗱 𝗝𝗲𝘀𝘂𝘀 𝗖𝗵𝗿𝗶𝘀𝘁 𝗯𝗹𝗲𝘀𝘀 𝘆𝗼𝘂 𝗮𝗹𝗹 𝘁𝗲𝗻𝗳𝗼𝗹𝗱
𝗗𝗲𝘀𝗽𝗶𝘁𝗲 𝗼𝘂𝗿 𝗯𝘂𝘀𝘆 𝗹𝗶𝗳𝗲, 𝗚𝗼𝗱 𝗮𝗹𝘄𝗮𝘆𝘀 𝗴𝗶𝘃𝗲 𝘂𝘀 𝗮 𝗰𝗵𝗮𝗻𝗰𝗲 𝘁𝗼 𝗰𝗲𝗹𝗲𝗯𝗿𝗮𝘁𝗲 𝗛𝗶𝘀 𝗴𝗼𝗼𝗱𝗻𝗲𝘀𝘀.
𝗢𝘂𝗿 𝗹𝗶𝗳𝗲 𝗶𝘀 𝘁𝗵𝗲 𝗹𝗶𝘃𝗶𝗻𝗴 𝘁𝗲𝘀𝘁𝗶𝗺𝗼𝗻𝘆 𝗼𝗳 𝗚𝗼𝗱'𝘀 𝗺𝗮𝗿𝘃𝗲𝗹𝗼𝘂𝘀 𝘄𝗼𝗿𝗸.
– Easter Sunday
– 5𝗉𝗆 (17𝗁 ) 𝖬𝖺𝗌𝗌.
– 𝖩𝗈𝗋𝖽𝖺𝗇𝗈𝗏𝖺𝖼 𝖴𝗅𝗂𝖼𝖺 110.