Easter celebrates Christ's resurrection from the dead.
And he said to them, "Thus it is written that the Messiah would suffer and rise from the dead on the third day" Luke 24:46
Easter is thus a symbolic reminder for all Catholics that Jesus has overcome death and sin. It marks the victory of good over evil. Today is Easter and we are all call upon to participate in the resurrection of Christ in our Parish at 5pm today.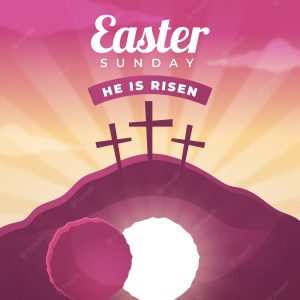 Christ is Risen
One practice of commemorating Easter is the joyous greeting of "Christ is risen" and a response of "He is risen indeed!"
It reminds us that Jesus is alive and in our midst and he welcomes us in a new life with him.